After the highs of last year, at MTM, we were chomping at the bit to attend ICE London 2023 at the ExCel, one of the world's most anticipated gaming and gambling events.
It was the return of a full-scale ICE edition and the largest ever. We were joined by 40,000 worldwide attendees, taking in almost 52,000 square meters. It was good for our step counts!
If you've never been, it's an assault on the senses. It's loud, it's bright, it's like a multitude of different nightclubs under one roof! There's simply nothing like it in the calendar, with industry heavyweights to startups all vying for your attention, showcasing what's new and hot in the world of gaming and gambling.
Beyond the usual bundle of freebies, here are our key takeaways from the event:
Land-based gambling remains a focus
Given the closure of land-based casinos during Covid, you would be forgiven for thinking all play had moved online. Whilst some customers have migrated online, land-based experiences remain key. In fact, 2022 was a new record for the state of Nevada, home of Las Vegas, at $14.8 billion!
Despite all the innovations and developments on display and a general sense of digitalisation, it was evident that the added excitement and engagement that comes from land-based casinos is a strategic battleground, especially as we could see new casinos popping up in the world's most lucrative spots, like Times Square.
It was therefore no surprise to see so much focus on hardware and software development across ICE, with the latest RNG and skill-based game innovations on display (check out the latest Pachinko machine below).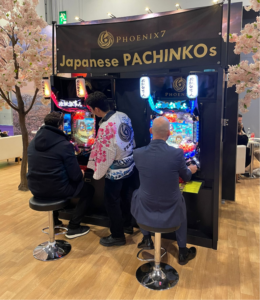 The latest Japanese Pachinko machine by Phoenix7. Pachinko is a mechanical arcade game originating in Japan, where players win Pachinko balls that can be later exchanged for cash rewards off-premises.
The decline of the human touch
Many of the true innovations we saw involved the decline of the human touch. How customers feel about a more digitalised landscape will be integral to the future of land-based casinos. Speaking of which…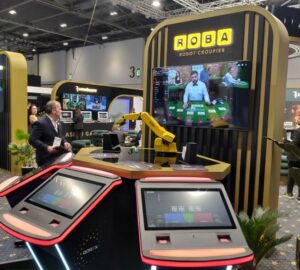 A robotic croupier arm by ROBA had everyone's attention at ICE 2023.
A concurrent theme throughout the event was the incredible innovation transforming areas of the industry otherwise heavily reliant on humans.
We were amazed by the presence of the robotic croupier arm and spent considerable time trying out some of the latest casino technologies. In particular, the automated roulette wheels encapsulate the feeling of being inside a casino, whilst being 100% automated!
Another development that caught our attention was the development of 'virtual sports betting'. Having been one of our key takeaways last year, we were eager to see what progress had been made.
Graphically there have been huge strides, although there's still progress to be made if we're comparing it to what the video gaming world offers. Despite this, there have been several improvements. The inclusion of commentary updates and emulated social media feeds are nice replications of real-world sports, as is the extension to sports such as baseball & darts.
Virtual sports will always remain a niche area of the sports betting world, but it's good to see the experience improve for those players.
Data-driven improvements for sportsbook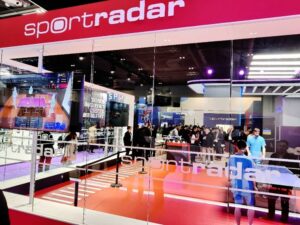 Sportradar's Computer Vision on display during a live ping pong showcase at ICE 2023.
A recent development in the sportsbook industry has been the growth of micro-betting, where players can predict the outcome of virtually every moment in a sporting event. This particularly hit the news when it was announced that social media personality Jake Paul had launched his company Betr, the world's first D2C micro-betting-focused sports betting app. Want to bet on the outcome of the next drive on an NFL game or the next pitch in an MLB game? Well, these options are sure to become easier to find as other operators look to integrate these experiences into their offerings.
One of our favourite innovations was Sportradar's Computer Vision, a live tracking system utilising AI software. We were transfixed at the speed and level of detail being picked up in real-time as we watched Table Tennis players battle it out. This could be a game changer for how we watch and bet on sports, as well as transforming sports fandom in general.
Focus on women in esports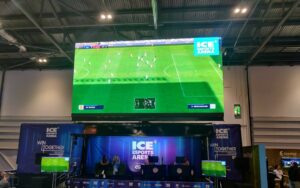 Despite women making up around half of gamers worldwide, this has yet to be replicated within the esports scene, where women are hugely underrepresented. There's a host of reasons given for this, all around the issue of misogyny (from lack of role models to continued harassment & toxicity in gaming communities).
It was, therefore, really encouraging that ICE 2023 hosted the Shesports Cup, a FIFA showcase between six female pro gamers. Not only were the games highly competitive and enjoyable to watch, but within the esports arena there was an opportunity to play the pros too! It was great to see women's esports getting this level of exposure, at such a big industry event.
As the esports scene continues to adopt a more concentrated focus on DEI, we can't wait to see what's to come for women in esports in 2023!
If you're interested in talking to us about ICE 2023, or anything in the gaming or gambling world, get in touch with the team at MTM (info@wearemtm.com). We'd love to chat!