If you've been on TikTok in the past 3 years, it's likely you will have stumbled across #BookTok. Often dubbed the saviour of the publishing industry, an online community of bookworms sharing their recommendations has led to a surge in interest in reading among Gen Z, and is responsible for the recent spike in physical book sales. Bloomsbury, a publishing house based in the UK, recently reported record sales and a 220% rise in profits, which Nigel Newton, its boss, put down partly to the "absolute phenomenon" of BookTok.
But as phenomenal as it is, one can't help but wonder: what's behind the success of BookTok? The publishing industry is a complex maze, with more or less 200,000 books published annually in the UK, tapping into different fandoms and leveraging different genres. Yet, BookTok seems to be driving not only the publishing industry sales, but also the future of publishing – which books are getting deals, manuscripts selected, writers commissioned, and we can't help but wonder how this will shape the industry in years to come.
First, what is BookTok?
The TikTok community offers the opportunity to connect with like-minded readers around the world. No longer relying on faceless reviews on websites, users can scroll and engage with real people and see their curated book recommendations. Users will display their physical books which are usually tagged with colour-coded sticky notes and dive into an analytical retelling of how this book made them feel. Young Adult, fantasy and romance novels dominate, but BookTok spans all genres. The main selling point comes from dramatic or emotionally charged novels where readers can share their reading experience in the comments – or through the Duet feature, which allows creators to post a video reaction overlaid or next to another creators video – and ignite conversation, and ultimately, purchases that fuel a book's hype.
How BookTok has helped popularise authors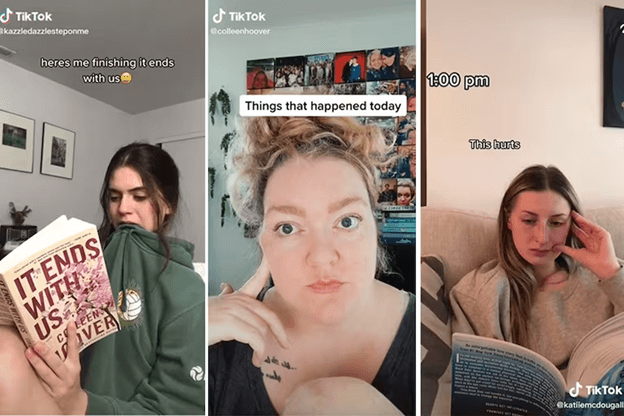 The algorithm of TikTok helps spotlight the creative work of artists, singers, dancers and writers. Interest and hype can quickly lead to fandoms surrounding a creator and can change the life of a writer, a prominent case being that of Colleen Hoover. TikTok's sway over the book industry is indisputable, with ten of the fifteen top sellers on the New York Times bestseller list being "BookTok books." Out of those ten books, five were written by Hoover. Step into any Waterstones in the UK and you'll be greeted with the author's own personal stand. Hoover was a self-publishing author for years who stepped onto the platform to self-promote her books, offering readers snippets from her writing whilst displaying an authentic view into her personal life. Hoover's 2016 novel It Ends With Us went viral on #BookTok in 2021-22 to widespread critical acclaim, so much so that the novel's title was changed to It Ends With Us: TikTok Made Me Buy It! and is currently in development for a feature film. Her books have spent a combined total of 120 weeks on the New York Times bestseller lists, but unless you're on TikTok, you may have never heard of Hoover. So what exactly makes Hoover's writing so appealing? Readers on TikTok can be seen crying as they explain how deeply her books made them feel, how addicting, accessible and bingeable her writing is. The content of her writing focuses on traumatic relationships and life events, taking readers on a rollercoaster ride of hyperventilation and tears. Her cult following is largely young adults, in keeping with the platform's key demographic audience, who were the people primarily spending hours on TikTok during lockdown when the app's popularity truly exploded.
Although we can't ascribe the decision of book adaptations solely to their success on BookTok, we can assume this has been a contributing factor behind a number of adaptations, such as Daisy Jones & The Six, The Seven Husbands of Evelyn Hugo, A Court of Thorns and Roses and From Blood and Ash, titles which have been developed into – or are in the process of – film or TV releases.
Spotlighting communities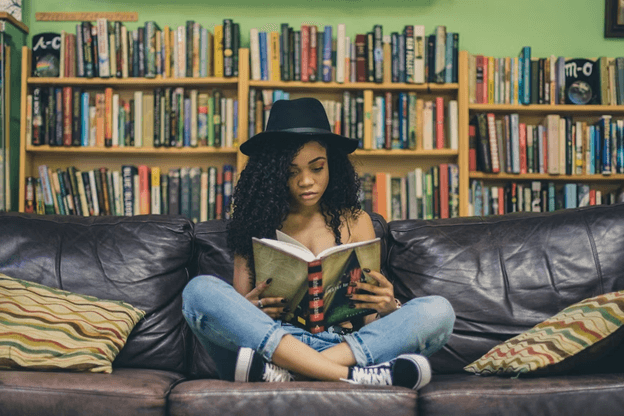 The format of TikTok lends itself perfectly to creating niche fandoms on the social media platform. There are a plethora of sub-communities within BookTok, many of which serve to spotlight content focused on underrepresented groups, such as #QueerTok. Creators can inform their like-minded readers on the best inclusive titles that don't play into aged tropes but instead deliver an engaging and real story, such as Heartstopper and They Both Die at the End, both of which have been adapted into TV shows after going viral on #QueerTok. Since its launch, TikTok has become a sanctity of queer education, creativity and escape. With the LGBTQ+ community growing in size – 1 in 5 adult members of Gen Z self-identify as part of the queer community – BookTok can be a gateway into a new world of queer reading.
Another sub-community is #BlackBookTok, with 269m views, where creators are curating lists to help people get started with Black fiction, to read more diverse love stories, and showcasing Black women authors. A recurring problem in TV, film and literature is the limited representation of Black stories, often largely steeped in trauma and pain. This failure to engage with the fullness of the Black experience has led to a surge in stories focused on Black joy and love.
Romanticising literature
The rise in reading physical books among Gen Z has seen many return to classic literature, titles that were released decades before many readers were even born, such as Wuthering Heights and Anna Kerenina. This rise in popularity appears to be driven partly by readers seeking out a romanticised, nostalgic time in history where reading was the main pastime hobby. #DarkAcademia is a fandom that has been growing since the start of the pandemic, and the trend can encompass anything from tweed clothing, to old Gothic buildings and brooding handwritten love letters. Creators can be seen dressed up in corsets a la Bridgerton, reading with a flickering candle beside them. A key driver behind this fandom is the love of higher education and literature, allowing #BookTok lovers to put on a performative display of reading that romanticises the hobby. The act of turning pages, scribbling notes in the margins, sticking a tag to revisit an interesting section, and the smell of them are some of the things creators obsess over on BookTok.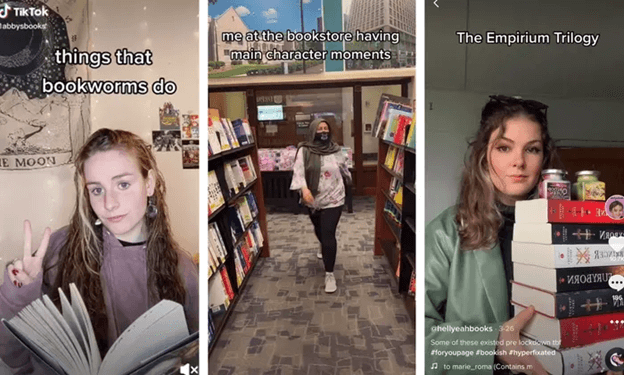 What does the future hold?
We suspect #BookTok won't slow down, readers will continue to use the platform to share their top picks with like-minded readers, and it will allow a host of new authors to enter the spotlight. Once a title has a deep fandom surrounding it, it makes sense to satisfy these audiences with an adaptation in a different format – whether it be through film, TV, or podcasts. We are sure to see more adaptations of #BookTok favourites emerge over the coming years, and if broadcasters have the IP behind them, tapping into familiar classics that are having a new lease of life on TikTok but through a new format could continue the success of adaptations we've seen thus far. So, what do we expect to happen around #BookTok in the coming years? Look out for key creators or popular authors creating podcasts, to further the community they have fostered across platforms. Diverse authors are likely to gain more of the spotlight on TikTok, which could lead to Hollywood adaptations in TV or film. Whilst the fandom behind titles could even spill into real-life environments, as face-to-face book signings could satisfy audiences and nurture the fandom further.
If you would like to discuss any of the topics outlined above, do not hesitate to get in touch.