BBC Three will be returning to linear television on Tuesday 1st February, after a 6-year digital–only stint on iPlayer. The broadcasting giant hopes the relaunch will attract more younger viewers, as it did when it last aired on television; planning to appeal to 16- to 34-year-olds, with content across an array of genres airing from 7pm to 4am.
The move online was originally to follow young people's viewing habits at a time when streaming services began to explode in popularity. This, alongside the savings in moving all content online, seemed like a win-win for the broadcaster. The recent decision to return however follows a record-breaking year for BBC Three, with teen-drama Normal People- amassing 62.7M views since launching in April 2020. Meanwhile, other shows targeted at younger viewers such as Killing Eve, Man Like Mobeen, Drag Race UK and Fleabag  have also flourished. The BBC has emphasised that, despite the growing online audience, there are still young people watching linear television – stressing the importance of being accessible to all types of people, not just the hyper-connected.
The announcement however comes amidst critique from fellow broadcasters. ITV has queried whether the BBC will flood the channel with US content in a means to capture the appeal of the younger audience 'in any way possible', while Channel 4 voiced concerns of 'inflationary effects on the market' as a result of BBC's bidding power on productions. BBC Three has responded to these concerns with a promise to broadcast original UK-based and BBC-produced content as 75% of its viewing catalogue.
Before the relocation, BBC Three was most popular for hits like Family Guy, Gavin and Stacey and plenty of guilty pleasure reality television, but the return promises the creation of new and original content. Some young people hope that this will create a much-needed space to take risks: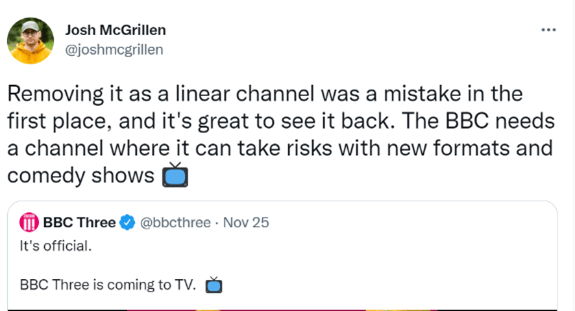 Meanwhile , others excitedly anticipate a more representative catalogue of stories:

Alongside a 'glow-up' new look and feel, BBC Three returns with a Launch Night Extravaganza premiering content such as Flight Club, an access-all areas series on the highs and lows of working as cabin crew in Scotland, and the highly anticipated Drag Race UK vs The World. Fans of Drag Race flocked to the comment section to express their excitement and eagerly asked for more information on who might be appearing in the new show: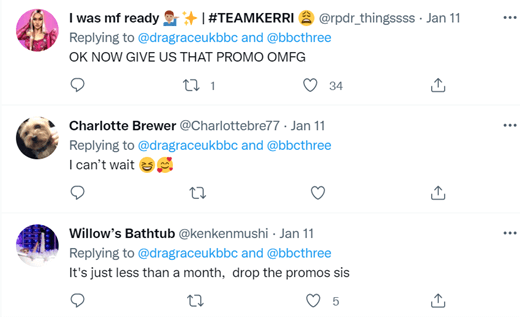 As someone who falls into the target 16-34 age bracket, I think linear television could give shows a chance to be found organically in a late-night click through channels, instead of relying purely on viewers who actively search for a specific show on iPlayer. Looking at BBC Three on iPlayer myself, I see a lot of content that I have loved but hadn't realised belonged to the channel – like Fleabag and I May Destroy You, and some shows that are exactly my type but were buried too deep into the catalogue for me to have noticed – like Nora from Queens and Pulling. If its current selection is any indication of future content creation, I think BBC Three could be a great channel to showcase the struggles and interests of teens, 20-somethings and above.
MTM team
28th January 2022